Dog poo bin
Dog poo waste bin with poo bags
Dog waste bins from DepoDog come in various shapes and sizes. But they have one thing in common; they are all extremely suitable for cleaning up dog poo.
Each dog waste bin contains a dispenser with waste bags and a waste section.

Do you want to close the dog poo bin due to fireworks nuisance?
No problem. The dog waste bins from DepoDog can be closed if desired during the pleasant December month.

The poop bins are available in any color and print.
Do you want a poo-free municipality or campsite? Request a free quote for a DepoDog dog waste bin.


Loading...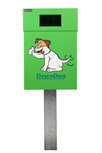 Dog poo bin DepoDog
DepoDog is the complete dog poo bin; both the dog poop bags and the waste bin are offered. Comes complete so including base and inner box.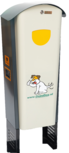 Dog poo bin DepoMat
Modern designed dog poo bin. This dog poo bin has 2 handy poo bag dispensers and an extra large loose inner bin. The DepoMat can be delivered within 5 working days.
Recreation, camping or marina?